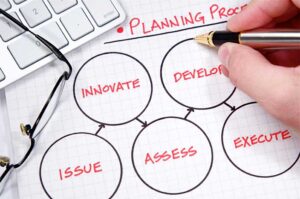 In the Strategic Planning Workshop, the participant will be given the background and thinking skills to not only plan, but to also develop a practical plan that can be implemented in the workplace. Planning is a vital component of the workplace, but planning alone is not sufficient. The successful planner must have a common sense approach to get people involved and get them to buy into the plan. Many great thoughts and ideas have been discarded, not because of lack of good strategic planning, but simply because of politics. This workshop will give participants the strategies and actual steps to think and then to plan. In addition, it will give them the people skills to get the buy-in for implementation.
Each participant will learn how to:
Define planning,
Develop a successful plan,
Present the plan, and
Obtain buy-in from others.